SAY GOODBYE TO BACK PAIN AND POOR POSTURE NOW! 
Our back is one of the most important parts of our body and also it is the most neglected part. The Back Stretcher will relieve back pain and restore your perfect waist curve. 
The Back Stretcher Massager is a perfect gift for anyone who has back pain, suffers from sore muscles, or just wants to relax after a long day. The Back Stretcher Massager is perfect for all of these needs. With the Back Stretcher Massager, you can massage your back without having to worry about getting down on the ground. The Back Stretcher Massager will provide you with a soothing massage in the comfort of your own home. It is portable and easy to store when not in use. You can also use the Back Stretcher Massager to do some stretches to help your muscles relax.
 HOW DOES SPINEARCH BACK MASSAGER WORK? 
When lying down on the back massage stretcher, gravity allows the front of your body to effortlessly stretch out and upwards, and the surrounding muscles start to relax, gently decompressing the discs in your vertebrae, realigning the spine, relieving tension and pain. You'll be amazed by how good you feel after just 10 minutes!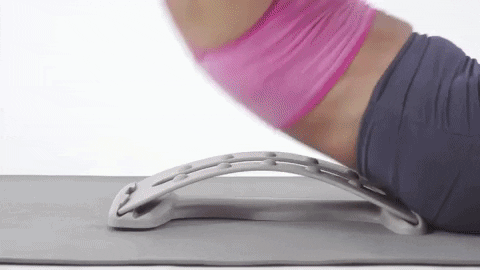 REASONS WHY PEOPLE ARE GOING CRAZY OVER THIS!

 
✅ RELIEVE MUSCLE PAIN AND STRESS – With our ergonomically designed self massager, which is an effective and simplistic way to reduce back pain. Lumbar Back Stretcher Massager with Acupressure grants your back with relaxation and relieves those aching muscles.
✅ MULTI-LEVEL DESIGN – The Back Stretcher has 3 slots for height adjustment, designed for people of all ages. The higher the back stretcher lifts, the stronger stretch you will get.
✅ LIGHTWEIGHT BUT STURDY – Made of premium quality ABS and environmentally friendly NBR materials. The back stretcher device can bear up to 330lb, and the foam pad in the center of this lumbar back stretcher gives cushioning to ensure your spinal feel comfortable. Ideal for use at home, at the office chair, at the gym, in the car, or yoga mat.
✅ SELF MASSAGER FOR WHOLE BODY – Can be used for upper and lower back shoulder, and neck massage. Acupressure helps you unwind your muscles tension after a long day.
✅ PERFECT GIFT FOR YOURSELF & LOVED ONES – Treat yourself by restoring the health of fatigued and tensioned muscle. Express your gratitude to your wife, husband, parents, friends, and teachers on some special day.
 "Now this by far has to be the best product I have ever ordered online! It has relieved my back pain, sciatica and improved my posture. This is truly a life-changing tool!" – Katherine (Brisbane, Au)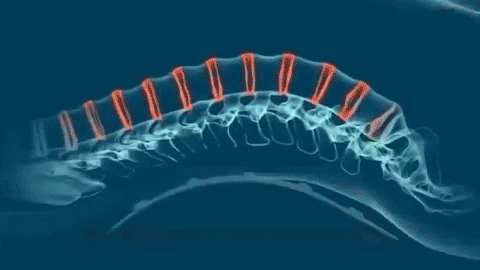 Material: ABS plastic + sponge pad
Level: Three gear adjustment
Scope of application: cervical spine, lumbar spine, legs
Maximum acceptable weight: 250,000 grams / 551.16 pounds
Packing size: 400 * 250 * 30mm / 15.75 * 9.84 * 1.18 inches
Package weight: 540g / 19.05 ounces
(Note: Due to manual measurement, please allow slight measurement deviation.)
Magnetic Back Massage Stretcher Lumbar Support Wais
Feature:
1. Three levels of adjustment: three levels of adjustable angles, the back arch angle can be adjusted as needed to meet the needs of waist training
2. Function: Equipped with 88 massage points corresponding to the body acupoints. It can massage the lumbar spine when stretched, and can correct the sitting posture when sitting.
3. Material used: made of high-quality ABS plastic, environmentally friendly, tough and tough, pressure resistant, compact and portable design, easy to carry
4. Matching use: There is a soft sponge pad in the middle, which can cushion the impact and provide better protection for the waist
5. Applicable places: Whether lying down or sitting, you can use this massager, suitable for home, office, car.
Packing list:
1 *panel
1 *base
1 *sponge pad
1*use manual
Precautions:
People who are unwell, who have recently undergone surgery or have back injuries, please consult a doctor before using this product
Patients with malignant tumors and pregnant women should ask their doctor for permission before use
Do not use within 20 minutes after meals
Back Stretcher,Lumbar Support Device Multi-Level Spinal Lumbar Back Stretcher Spine Deck Back Stretching Treatment Back Massager