Show Them You Care with Personalized Jewelry! ❤️ What is a PupRing? A custom engraved sterling silver ring for dog moms to honor their fur-babies. This handcrafted ring is designed with pure 925 sterling silver which will never turn your finger green. We laser-engrave your pets name on the ring! Each ring is also stackable for dog moms with more than one fur baby! **Each ring has a 60 day Money Back Guarantee**
How Your PupRing is Made!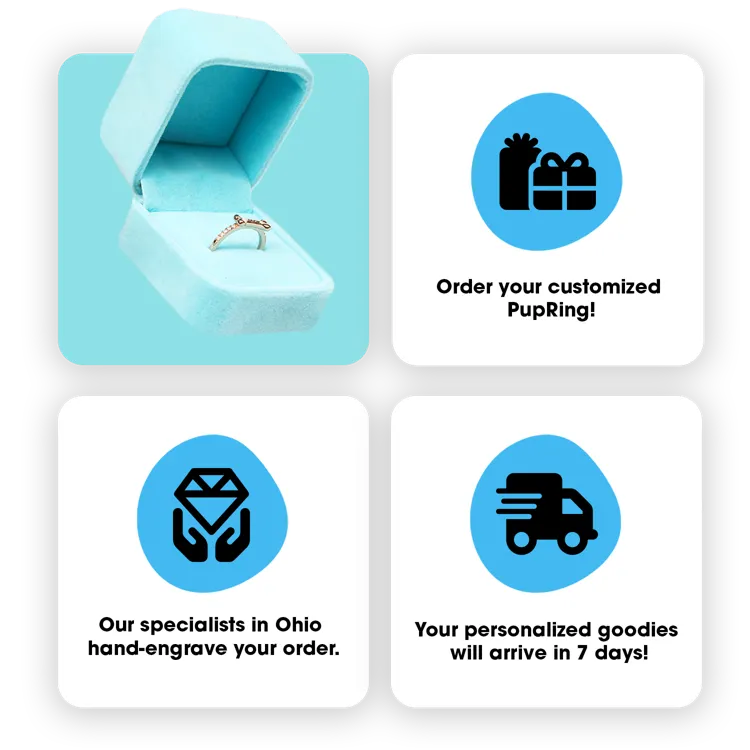 We have a seven business day processing period to make sure your ring comes out perfectly. Once your PupRing is engraved, we package your ring(s) and drop them off at USPS. USPS estimates that domestic orders will arrive within 4-7 days. For international orders, it may take up to 1-2 weeks for your PupRing to arrive. All of our rings are engraved, packaged, and shipped from our warehouse in the USA. 
**There may be USPS delays during the holiday season
Yes, we built the PupRing with multiple doggos in mind! We want you to be able to showcase all your fur-babies on one finger. 
We've also noticed that customers with multiple dogs prefer to get a pet face necklace with multiple pendants of their pups face!
Will PupRings turn my fingers green?
Absolutely not! Each PupRing is made with genuine 925 sterling silver which can be worn every day with no issues! 
925 sterling silver is gorgeous, versatile, affordable, & extremely durable making it the obvious choice for rings meant to last a lifetime heart
How is each PupRing engraved?
Can I get a refund if I don't like my PupRing
A PupRing isn't just a ring to us, it is a collection of the shared memories between you and your beloved pet. We want to share that love & respect by giving a 60-day money back guarantee on all purchases. We know that you will absolutely love your PupRing when it arrives. If for some reason you don't, we will issue you a full refund with a prepaid shipping label! 
Dog moms have been raving about their PupRings